The Buffalo Sabres's 2019-20 season will be the team's Golden Anniversary, and legendary play-by-play man Rick Jeanneret recently announced that he will return to call the action.
It would be morally and inherently wrong for the Sabres to have any kind of a celebratory season without the man known as RJ in the booth. Arguably the most iconic figure in Sabres history, Jeanneret truly has been through it all with Buffalo and the team will more than likely honor him at some point throughout the year.
In honor of the 76-year-old returning for his 49th season with the Sabres, here are my personal top five favorite calls from Jeanneret. Some picks may surprise you while some may be wholly predictable. They aren't ranked in terms of fame necessarily, but a combination of how awesome the call was and how much it showed why Jeanneret is among the greatest sportscasters of all time. I tried my hardest to find a video of each call but the quality isn't great on some, my apologies.
#5: LalalalalalalalalaFontaine
First up is one of Jeaneret's most famous calls ever. Though it may not seem like it at first, it's also one of his most clever. Buffalo acquired American C Pat LaFontaine from the New York Islanders in October of 1991 in exchange for a package that included 1987 first overall pick Pierre Turgeon. The St. Louis native wasted no time making an impact in Buffalo, scoring his first goal in his first game. According to Sabres legend Danny Gare in the 2006 Top Shelf documentary of Jeanneret's career, he and fellow commentator Barry Buetel were knocked senseless when he pulled this beauty from out of nowhere. Quoted numerously since, it helped cement LaFontaine in Sabres history and showcases one reason why Jeanneret has been so successful: his quick wit.
#4: We are not worthy
The Buffalo Sabres were one of the best teams of the 1990s, and a large reason for this was the man they had in net for nearly the whole decade: Dominik Hasek. The Dominator came to Buffalo in 1992 as a Chicago castoff and left in 2001 as one of the greatest goaltenders of all time. As one could expect, Hasek gave RJ a plethora of material over the years, but his greatest call in response to a save by the Hall of Famer came in a game against the Philadelphia Flyers. Hasek lunged across the crease to make a point-blank stop and take away what looked to be a guaranteed goal for The Legion of Doom. "We are not worthy" became so popular that Jeanneret eventually used it again on a save by Ryan Miller more than a decade later. The line is undeniably cheesey and over-the-top, but that's what makes Jeanerret so great to this very day.
#3: This giant, wild thing going on
To say the Sabres and Flyers didn't like each other during the 1996-1997 season would be an understatement and a half. As previously mentioned, Philly in those days was known as "The Legion of Doom" thanks to the likes of fearsome players like Eric Lindros, Rod Brind'amour , Scott Daniels and Dan Kordic. The Sabres were not pushovers themselves, however, possessing the likes of Rob Ray, Brad May, Matthew Barnaby and Bob Boughner. Both team's grit and toughness made a clash inevitable and things truly boiled over for the first time on February 4, 1997 in Philly.
A donnybrook broke out in the second period with Kordic and Ray at the center. Just when it seemed like things were about to calm down, however, Flyers' G Garth Snow charged from the net and jumped Ray, reigniting the festivities and requiring Hasek to do the 100-yard dash down the ice. Jeanneret once took ludicrous criticism in his career for sensationalizing fighting, but there's no denying that one giant, wild thing was going on on that February evening.
#2: Briere's OT winner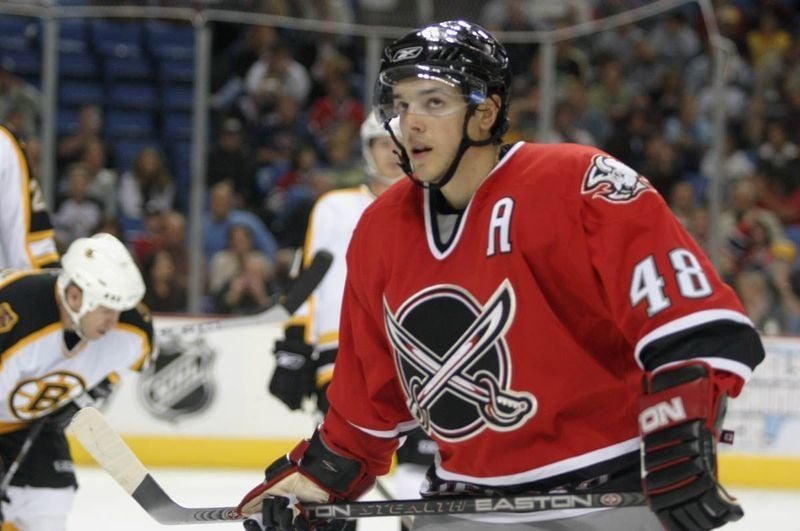 Unlike the previous entries, this isn't an example of Jeanneret's endless bag of one-liners of impressive vocabulary, but rather his most famous attribute. The 2005-06 Buffalo Sabres season is arguably the team's best ever, as it saw a team that was predicted to finish in the basement end up one game from the Stanley Cup Finals. Jolly Old St. Rick's most famous call from that season is "Oh now do you believe??" in response to Jason Pominville's historic series winning goal in the semifinals vs. Ottawa. And while that line is the stuff of legends, my favorite from that run comes on a different overtime goal.
In Game 6 of the Eastern Conference Finals, the injury-ravaged Sabres were down 3-2 and facing elimination against Carolina. Tied at one in the first overtime and on the powerplay, Rory Fitzpatrick passed across to Daniel Briere, who was camped at the left circle. Briere wasted no time and fired a laser that hit Hurricanes' G Cam Ward and bounced in, sending both RJ and HSBC Arena into a fracas.
One thing that you have to keep in mind here is that Jeanneret was 63 at the time and screaming like a mad man. The energy and passion with which he delivers the call is honestly incredible and it makes the hair on the back of my neck stand up every time I hear it. It was unexpected gems like this that made that season so fun and also so heartbreaking when the team lost to Carolina in Game 7. It was so close to taking our top spot, but one line stands above the rest.
Honorable Mention: The shot heard around the world
#1: May Day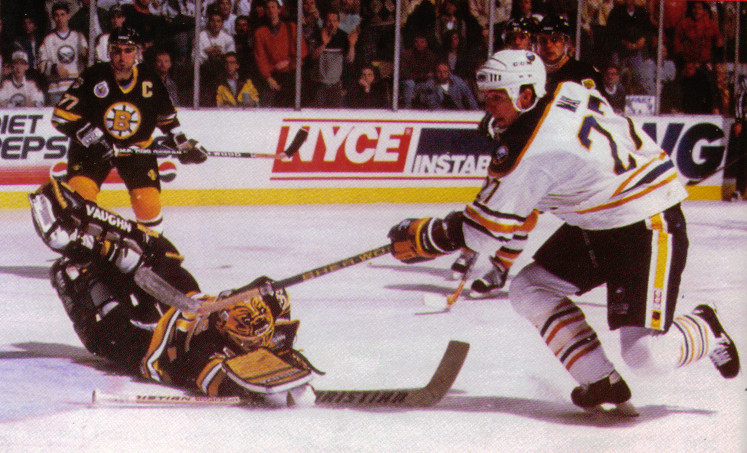 I know this is probably no surprise at all, but there is also no denying that this is the signature line of Jeaneret's career and the one that truly made him a Sabres legend.
The Sabres faced the Boston Bruins in the 1993 Prince of Wales Conference Quarterfinals and were looking to sweep in Game 4 at home. The Bruins had held a 5-2 lead in the game at one point, but the Sabres came roaring back and knotted it at five to send it to overtime.
What unfolded next was one of the unlikeliest goals in NHL history and it resulted in one of the greatest calls in NHL history as well. Pat LaFontaine was tripped up on the play but managed to get the puck up to 22-year-old LW Brad May, who wasn't known as scorer and didn't have a goal in nearly 20 games at that point. To make even matters worse, in front of him was Boston's Hall of Fame D Ray Bourque. To the surprise of everyone in the hockey world, however, May deked Bourque out of his pants and went in on goal, firing the puck past a sprawling Andy Moog to win the series for the Sabres and set the Buffalo Memorial Auditorium ablaze. Instead of describing Jeanneret's call, just listen. If it doesn't give you chills, I don't know what will. Though it's too bad this call couldn't have come on the goal that won the team the Stanley Cup, it remains RJ's best ever and is permanently entrenched in Buffalo hockey lore.
Jeanneret is already in the Hockey Hall of Fame and will go down as one of the greatest in the history of sports at his occupation. All the man wants to do is see his beloved team win it all. The ball is your court, Sabres.
What's your favorite call of Jeanneret's? Did it make this list? If not, be sure to let me know.
Thanks for the memories, RJ.