General Manager Jason Botterill made a bold first move for the Buffalo Sabres at the 2019 NHL Trade Deadline. The team announced on Sunday night that D Brendan Guhle and San Jose's 2019 first round pick were sent to the Anaheim Ducks in exchange for D Brandon Montour.
It's a bit disappointing to see Guhle go, but also not surprising. Though the 21-year-old has loads of potential, it was becoming increasingly obvious that he did not factor into Buffalo's long-term plans anymore, especially after Lawrence Pilut got a three month introductory tour not long after arriving from Sweden. The Sabres never really gave Guhle a chance to ever show what he was capable of despite considering him the team's top prospect. I had been expecting him to get packaged with a first round pick in a trade this season, but I'd be lying if I said I was expecting the return to be Brandon Montour, seeing as I had hardly heard of him before now.
Montour, 24, was Anaheim's second round pick of the 2014 Draft and joined the team full-time last season. I honestly don't know much about him but Botterill must see an awful lot in the Oshweken, Ontario native to give up a first round pick and a high end prospect in exchange. Forecaster.ca touts Montour as a capable offensive defender who can quarterback a power play, though he has a tendency to put himself out of position. He had five goals, 25 points, 40 PIM and was a -16 in 62 games with the Ducks this season.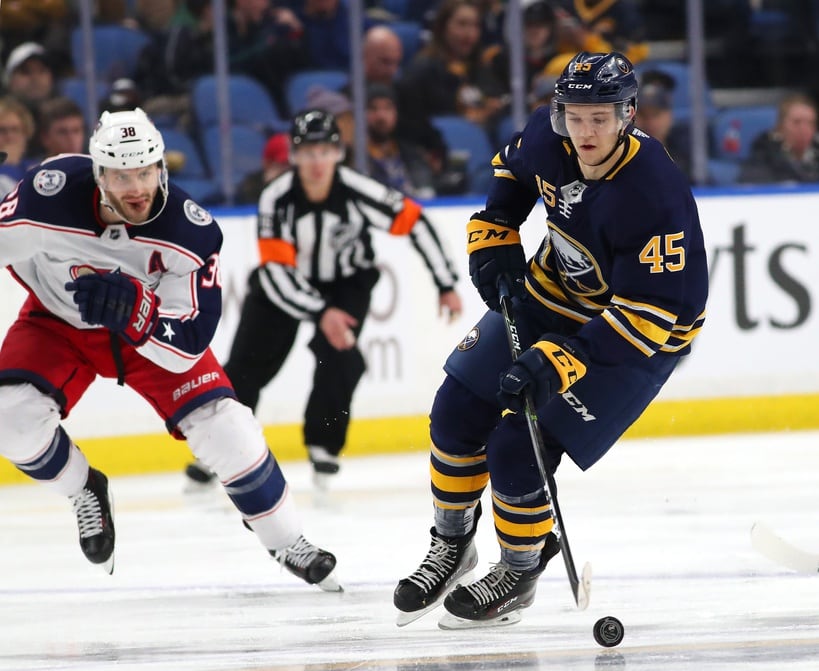 Though the Sabres invested a lot in Montour, he will be under the team's control until the end of the 2019-20 season via the two-year, $6.775 million deal he signed last July. That gives Buffalo until at least the 2020 Deadline to decide whether it wants to lock him up long-term or trade him for another future asset. Buffalo does possess a strong core of young defensemen in the Rasmuses, Jake McCabe and Casey Nelson, and Zach Bogosian has had a renaissance season as well. Montour has at least until this time next year to see if he can gel with those guys and give Buffalo a reason to keep him. It remains to be seen if this will be Buffalo's sole move of this Deadline. Remember the team still has two first rounders at its disposal.
Montour should arrive in time for tomorrow night's installment of the Battle of the QEW in Toronto. It will be interesting to see what number Buffalo gives him since his no. 26 is occupied by Dahlin.
What are your thoughts on the trade? Is Buffalo done dealing or does Botterill have more up his sleeve? Find me on Twitter at @Flat_Manigen74 and let me know.