Day 1 of the combine is in the books and let me just say the running backs as a whole tore up the combine yesterday. This is the most talented running back class I've ever seen. Although everyone else was impressive one guy stood out. Saquon Barkley absolutely dominated yesterday. If Barkley isn't the first pick after yesterday then I will be shocked. With that said here are my top 5 running backs.
Saquon Barkley PSU
Pro Comparison: Adrian Peterson
Saquon is a monster. Two years ago I became a huge fan of Penn State and I was like man this running back is amazing. Then this season he put on a show. Saquon dominated at the college level and then dominated the combine yesterday. Saquon lifted more weight then Browns Left Tackle Joe Thomas and ran faster then Falcons Wide Receiver Julio Jones. I almost wrote nobody for Barkley's comparison because I've never seen a player as talented as him coming out of college. Adrian Peterson is one of the greatest running backs of all time and him and Barkley have similar running styles so he's the best comparison. I see no way Barkley falls out of the top 3.
Derrius Guice LSU
Pro Comparison: Kareem Hunt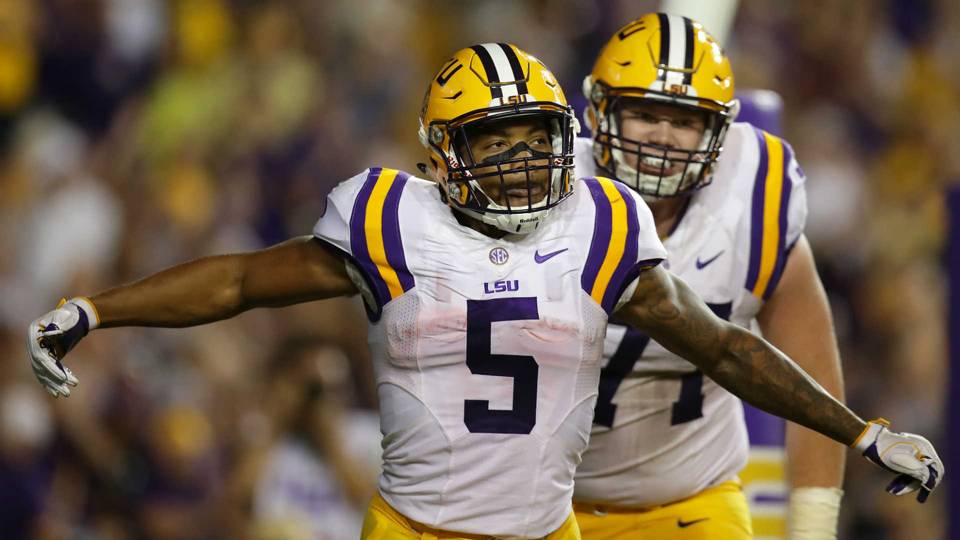 Guice had a extremely tall task of replacing Leonard Fournette and he did a great job. I watched some highlights of his and he has great speed and can make tacklers miss. Instead of watching his best plays I went back and watched his tape versus Alabama (a pro like defense) and he didn't put up incredible numbers but he played good overall. Guice got yards everytime the ball was in his hands, he ran good routes and blocked for the QB to open up the pocket multiple times. Guice will be an immediate impact player for whoever picks him. The best comparison for Guice in my opinion would be Kareem Hunt. Just like Hunt he can be a phenomenal rusher, an extra blocker or even another receiver. Guice has potential to be a top back in the future.
Nick Chubb Georgia
Pro Conparison: Matt Forte
A few years ago Chubb was renowned as the top running back in college football. Then Chubb went down with a season ending knee injury and in the years since he's worked hard to get back to where he used to be and that mentality combined with his skill is a recipe for success. Georgia is a running back factory. They produced Gurley and now two high potential backs in this years class. Nick Chubb is a big guy with speed just like Matt Forte was. He's a guy who can be a primary back for a team and make an impact.
Sony Michel Georgia
Pro Comparison: Alvin Kamara
Michel is a lot like Guice he has great speed in open space and can make tacklers miss. He can be a phenomenal rusher and just like Kamara he is a good receiver in the back field. Michel's biggest downside is he was never a primary back at Georgia. There was always someone ahead of him. Gurley and Chubb both were there and they have an up and coming running back named D'Andre Swift. Michel could be a good primary back but I see him as more of a platoon back similar to Kamara and similar to what he did at Georgia.
Rashaad Penny SDSU
Pro Comparison: Darren Sproles 
Penny is a monster he makes guys miss, he is active with his feet and is good at making quick decisions. Penny is a guy who can come in and be a starter immediately in my mind. His biggest downside is his opponents. He never went up against many pro style defenses. I don't think this will be an issue though because he has skills that seem like they can translate to the next level. The best comparison I could give for him would be Darren Sproles because Penny is a phenomenal returner and a good rusher. He is a plug and play guy that brings versatility.