So this is what is going on right now on the internet regarding the Knicks.
First there was this:
Kristaps Porzingis (left knee injury) will not return and is undergoing further evaluation.

— NY_KnicksPR (@NY_KnicksPR) February 7, 2018
Then there was this absolute atrocity.
In the Mecca of basketball

Giannis just did this ? ? ?pic.twitter.com/rnxxdhApy1

— Sports Illustrated (@SInow) February 7, 2018
Just a nightmare situation for Tim Hardaway Jr.  With The Greek Freak coming down the lane full speed there was a less than zero percent chance someone Tim Hardaway Jr's size was even going to think about slowing that dude down.  At that point you're just trying not to get nuts in your face.  Unfortunately Tim got a huge helping of nuts to his face.  So we are really losing on all cylinders here people.
And finally, the nail in the Knick's mediocre season that would have led to a 6th to 8th seed in the Eastern Conference playoffs coffin.
Medical Update: An MRI confirmed that Kristaps Porzingis tore the ACL in his left knee.

— NY_KnicksPR (@NY_KnicksPR) February 7, 2018
I'm no scientist but I'm pretty sure that you need your ACL to play basketball.  We are so fucked.
And hey, look on the bright side, we got to watch a few exciting weeks of basketball in November and December, as per tradition, and now, with KP gone, we don't even have to watch the February to April collapse!  Goddamnit.
In summary Tim Hardaway Jr got beyond posterized, Kristaps is out for the season, and our pets heads are falling off.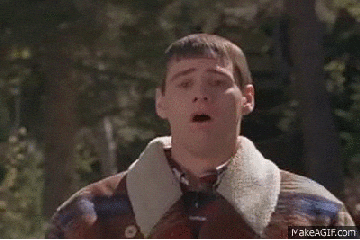 @CaddieYard