The Knicks and Phil Jackson haven't made too many sound basketball decisions in the past few years (besides drafting Kristaps Porzingis), but they may have found a gem in their 2017 first round pick, Frank Ntilikina(silent t).
There was plenty of options for the Knicks to choose from when it was their turn to pick at number 8 overall, including highly touted guards Dennis Smith Jr. and Malik Monk. Although I would've been happy with either Smith Jr or Monk as well, I believe the best move was to take the Belgium born, French International Ntilikina.
Frank Ntilkina is only 18, and has the potential to be a freak athlete, similar to a Giannis Antetokounmpo type. He's currently listed at 6'6, with a 7 foot wing span (!!!!!) and has an incredible motor. He is a strong defender who can defend at the 1,2 and 3 positions. I love his size and potential to guard multiple positions, and perimeter defenders are key to building a strong defensive team. He's currently playing in the French Pro A League, and has helped his team make it to the Finals.
His numbers in the French league don't jump off the page (5.3 ppg, 1.5 apg, 2.3 rpg, 47.8% FGP, 39% 3PTFGP), but he is a rotational player that averages only 19 minutes a game. He had a phenomenal performance in the FIBA Europe U-18 Tournament, playing against players in his same age group. He lead Team France to a Championship Title while averaging 15.2 points, 4.5 assists, 2.8 rebounds, and 2.2 steals while shooting 50% from the field, and a ridiculous 58.6% shooting from behind the arc. He started the tournament slow (because of an illness), but scored 31 points in the Championship game, and was crowned MVP of the tournament.
He for sure will be a project for the Knicks, and will take a few years to develop until we see his full potential, but that's one of the main reasons I believe it is the right pick. The Knicks will not be a good team for a few years, and have to focus on building a core of young, talented players that have a high ceiling, and have the the potential to be superstars. They already have one of those type of guys with Porzingis, and I also loved what I saw last year from Rookie Willy Hernangomez as well.
You can already write off the next 2-3 years of the NBA as long as the Warriors and Cavaliers super teams still exist, so why not stockpile young talent, and start building for 4-5 years in the future? The Knicks have begun to do that with Porzingis, and continued that process last night with the drafting Frank Ntilikina.
Smart move, Phil.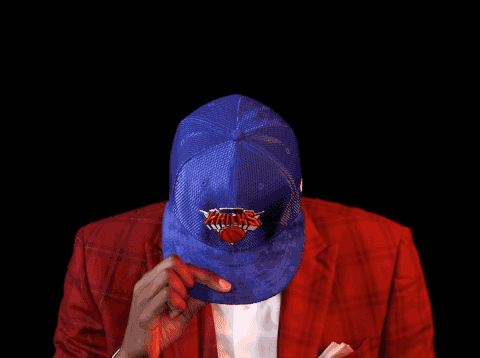 -Mark