The captain of the Buffalo Sabres for the past two seasons has been Western New York native Brian Gionta. With Gio turning 38 after the new year and being on the last year of his contract, the odds of the Sabres extending him after this season are unlikely, though he told Mike Harrington of The Buffalo News last April that he has no retirement plans.
If GM Tim Murray does decide to not bring Gionta back for another season, he and Dan Bylsma (assuming he's still coach by then at this rate) will have multiple candidates for the captaincy. Let's go through them and try to decide who the best man is for the job. We will start with the popular choice.
Ryan O'Reilly:
The most popular and likely choice for the job is the man who has quickly become a fan favorite at KeyBank Center. Since Buffalo acquired him at the 2015 Draft, Ryan O'Reilly has become a leader for the Sabres. He plays in every scenario; even strength, the power play and the penalty kill. ROR possesses incredible discipline on the ice (he has taken only 14 PIM in his season and a half with the team) and has been instrumental in the progression of Jack Eichel, Sam Reinhart and Rasmus Ristolainen. Leading the team with 60 points last season and being Buffalo's Masterson Trophy nominee for his dedication and leadership, O'Reilly is without a doubt the fans' choice to don the C next season. Though some may argue that he doesn't deserve it because of the trouble he ran into off the ice last offseason, Ryan O'Reilly has perservered through it and is the complete package.
Kyle Opkoso:
Though it will only be his second season with the team by then, Kyle Okposo has all the qualities teams want in a leader and has made an immediate impact on his new team, currently second on the Sabres with 22 points. He's shouldering the weight of the team currently and, like O'Reilly, leads by example. Signing a huge 7 year, $42 million contract that includes a no-movement clause in July, Okposo won't be leaving this team anytime soon. At 28, the high-flying right winger is a mature and viable captaincy option for Bylsma because of his conduct on and off the ice. He is the type of player that teams want representing their organization.
Zach Bogosian:
Okay, this one may be completely out of left field to some, but I'll entertain the notion because it's not too far-fetched. Zach Bogosian, despite his defensive shoddiness, is a solid offensive contributor for the Sabres and no one can deny that the team recognizes him as a leader. A recent example was on December 22 against Carolina, when he wasted no time in dropping the gloves to address a Jordan Staal hit on Jack Eichel. Those are the kinds of players that are immensely popular in the locker room and have the support of their teammates. That is why I'll throw Bogosian's hat into the ring. He may not be the best player, but he is undoubtedly dedicated to his team, and, above all else, that's what a captain should be.
Rasmus Ristolainen:
Quickly becoming one of the NHL's top D-men at just 22 years of age, Ristolainen currently leads the Sabres with 23 points after a rough start to the season. Consistently leading the team in TOI, "Risto" is showing that he has a flare for the dramatic with his late-game heroics and that he is a tough and durable player that will be a factor on the team for years to come. His physicality is what earns him the most praise. Everyone loves watching when the hard-hitting Alexander Ovechkin ran Ristolainen five seconds into a game and ended up hitting the ice as if he went head on into the boards. The young Finn has plenty of character and could be a real dark horse for the role.
Jake McCabe:
Another possible sleeper pick that many probably won't give much thought to is rough-and-tumble defenseman Jake McCabe, who is quietly rising to the top of Buffalo's D-corps. Underrated and sometimes even unappreciated, McCabe has proven in the past that he knows how to be a leader, captaining Team USA to Gold at the 2013 WJC Championships. Like Bogosian, McCabe has also stood up for his teammates after opponents have taken liberties, such as last February when he immediately went after Radko Gudas after the Flyers' thug blindsided Dan Catenacci, who was playing in just his third NHL game. The Eau Claire, WI native has been a captain before and isn't a long shot for the Buffalo C. Let me put it this way, he got a lot of love last season from NBC's Pierre McGuire. If you're getting praised by him and you're on a small-market team, you must be pretty darn good.
Sam Reinhart:
Like teammate McCabe who captained Team USA, Sam Reinhart has captained Team Canada at multiple World U-18 championships, leading them to Gold at the IIHF's version of the U-18 Championship in 2013. Besides his immense intelligence on the ice, Reinhart has both character and determination and has not taken a backseat to Jack Eichel since joining the Sabres. He might not be as flashy as others and has taken his time developing, but Reino has what it takes to lead a team and has nowhere to go but up in his NHL career. He may not be the popular choice, but he is definitely in contention.
Jack Eichel: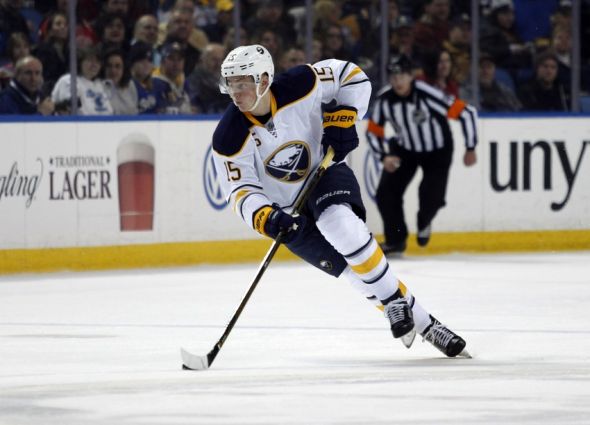 I end with the most obvious one. Everyone knows, barring some outlandish occurence, Jack Eichel will one day be the captain of the Buffalo Sabres. I'm glad that the Sabres didn't follow Edmonton's (in my opinion foolish) lead and make him captain already like the Oilers did with Connor McDavid. Edmonton really didn't have any options for the role besides maybe Jordan Eberle and Ryan Nugent-Hopkins. Buffalo has plenty of players who can assume the position while Eichel continues to mature so there is no rush to give it to him when he's not ready. Eich captained Team USA at the 2014 IIHF U-18's and lead the Americans to Gold. He has shown Buffalo that he has the abilities of both a franchise player and a leader. Eichel is only 20 and still not ready for the C in the opinion of many, but we all know one day he will be. Will the team give it to someone else (say ROR) in the interim? It remains to be seen but count on Jack wearing the C one day.
Some of these choices could be reaches and, after all, the team very well could extend Gionta and keep him as captain for another season or so. But, say they don't, I do feel like these are your top candidates. Do you think I left anyone out or wrongly included someone? You tell me.